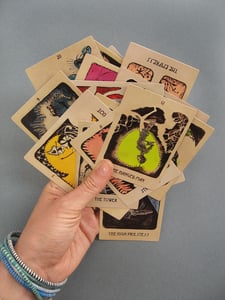 $

105.00
The Way of the Fool, the 22 Major Arcana Tarot deck. This deck is a pocker size digital reproduction of original hand made cards produced with the water-based traditional Japanese woodblock printing technique.
This is an edition of 50 signed by the artist. It comes in a beautiful hand made cloth pocket.
Still available as of September 2016. Few decks left.
For the original prints: http://beatrizinglessis.net/#266906/THE-WAY-OF-THE-FOOL-CARDS